Full-Service Motion Graphics Design
Fontastics Equipment Rentals
Fontastics can provide you with rental equipment as well as programming services. If you need an operator for your show we can help with that too.
mDots Design is a sister company of Fontastics and is available for any graphic design needs you may have. When you rent from us we can function solely as an a la carte rental house; a full-service Motion Graphic Design, Programming, and On-Site Technical Support vendor; or anything in between.
XPression Studio Flex
We offer multiple Ross Video XPression Studio Flex Systems running on the latest hardware and software. XPression allows real-time 3D Graphics Playback in an operator-friendly package. Unlike other real-time 3D systems on the market, a single operator/programmer has the ability to control and update content on the fly.
https://www.rossvideo.com/products-services/acquisition-production/cg-graphics-systems/xpression/
Inception Social
We offer multiple Ross Video Inception Social Management Systems. Inception Social provides unified social media and web management, allowing you to curate comments, photos and video posted to social media in real time. Seamlessly feed the content to an onscreen graphic through drag-and-drop workflows via XPression. Inception can be physically deployed on location, or access can be set up with one of our servers remotely over the web.
https://www.rossvideo.com/products-services/management-systems/social-media-management/inception-social/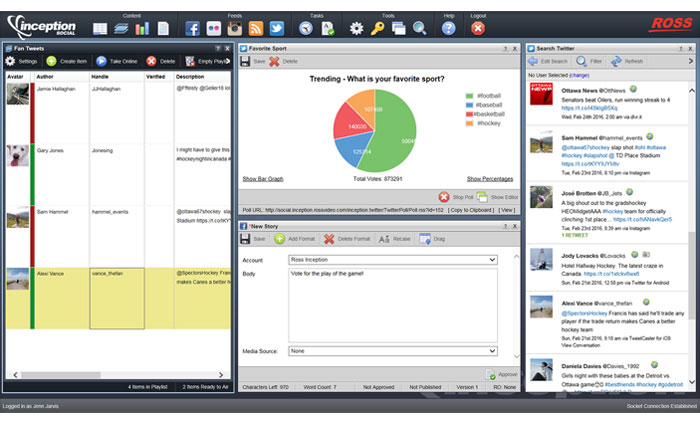 Avid Deko 3000
We offer multiple Avid Deko 3000 Dual-Channel HD / SD Hybrid Systems running Software Ver 5.3.x